Album NEW!
Login name and Password are delivered to participants and sponsors.

Group Photo Dec. 3 Dec. 5 NEW!

Abstract Book 47MB!!
Password is required to open this Abstract Book.
Password is delivered to participants and sponsors.
Please do NOT deliver the password to people except participants and sponsors.

Annoucements
Final Program

< Bus Services >
Bus services have been arranged to bring delegates from Hotel Nikko Nara to Conference Venue in the mornings of Dec. 3, 4, and 5, and from Conference Venue to Hotel Nikko Nara in the evening of Dec. 5. There are two kinds of departure times, earlier and later, for each service. Please arrange your own transport if you have missed the bus. There is no bus service in the evenings of Dec. 3 and 4. A summary table of all assembly times is shown below.
From
To
Dec. 3
Monday
Dec. 4
Tuesday
Dec. 5
Wednesday
Hotel Nikko Nara
Meeting Place: Hotel Lobby on 3rd Floor
Conference Venue
#1. 7:50
#2. 8:20
#1. 7:20
#2. 7:50
#1. 7:20
#2. 7:50
Conference Venue
Meeting Place: Registration Desk
Hotel Nikko Nara
no service
no service
#1. 16:50
#2. 17:20
< Travel Info in Nara >
Conference Venue: Todaiji Culture Center (Todaiji Museum)
Welcome Reception & Banquet: Hotel Nikko Nara
Lunches & Dinners: Nara National Museum
JR Nara Station
Kintetsu Nara Station
Nara City Main Bus Route Map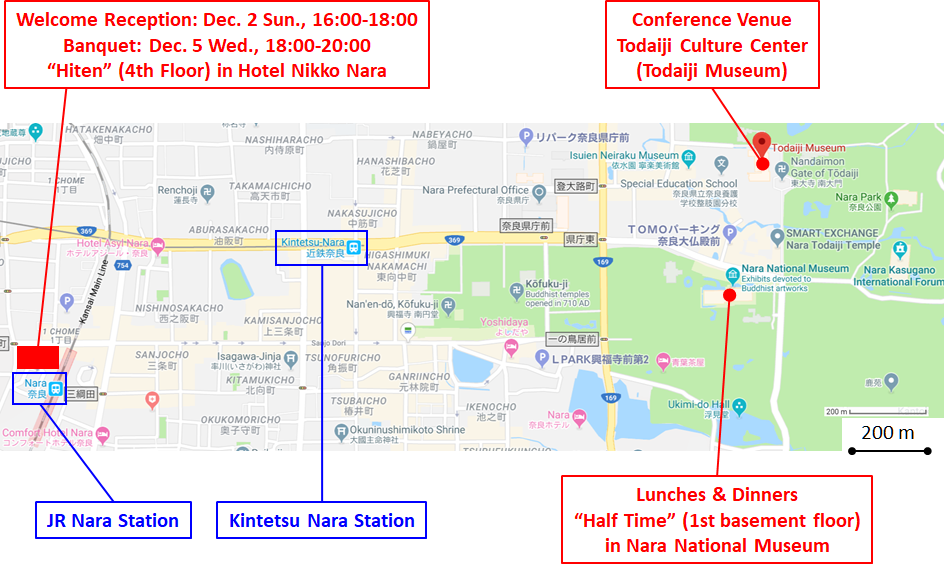 < PC connection - for Speakers >
You can connect your PC to a projector via HDMI or D-sub analog ports.
HDMI connection is recommended.
If your PC has only D-sub port, please let a staff beside the stage know in advance.


< Poster Instructions >
Poster session will be held in the evening of Dec. 4.
For all poster presenters, please get together in the evening of Dec. 4 in small hall and stand in front of your own poster to explain your research.

- Poster board size is 1200 mm in width x 1800 mm in height. You can use this board for your poster presentation as you like.
- There is no template for poster.
- Arrangement of poster boards is shown in Final Program.

* During lunch time and coffee break, posters are open for participants. You do not necessarily have to stand in front of your poster, but you can if you would like to explain it.